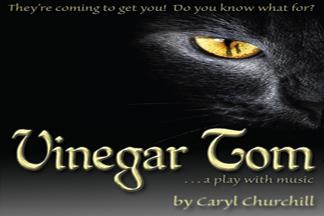 VINEGAR TOM
by Caryl Churchill
Directed by Erin Riley
with Assistant Director, Ruta Douglas Smith
Musical Score composed and performed by Parker Bailey Stevens
Lyrics by Caryl Churchill
May 10 - June 2, 2019
Fri & Sat at 8pm; Sun at 2pm
Witch Hunt: a community targets its weakest members as "other", then uses law and religion to persecute and destroy them.
It's no coincidence the victims are female identified. What was true in 1670 is eerily true in 2018.
A play about power, sex and witches by acclaimed British playwright Caryl Churchill. An intense journey back and forth through time, propelling us from the 17th to the 21st century to see just how much things have changed even as they remain the same.
Opening Night Reception with Cast & Directors: Fri, May 10, 2019 - immediately after the show!
FUN NIGHT FRIDAY - all Friday performance tickets are just $18
Ten Spot Thursday: May 16, 2019 All tickets for this performance just $10
Talk Back: Sun, May 26, 2019 Post Show discussion with cast & director following the matinee performance.
Event Contact
Fuzz Roark
4107521225
Event Details
Friday, May 24, 2019, 8:00 PM – 10:00 PM
Repeats weekly Friday and Saturday -- until Sunday June 2, 2019.
Sunday, May 26, 2019, 2:00 PM – 4:00 PM
Repeats weekly Sunday -- until Sunday June 2, 2019.
Prices: – Array
1
Offer good
04/30/19

to

06/02/19
Redemption Instructions
Order tickets online at www.spotlighters.org/vtom
ALL orders must be made online in advance
Use Discount Code: WITCHES
Limited to 4 tickets per order/household
and 16 tickets per performance
Location
Add Event To Your Calendar