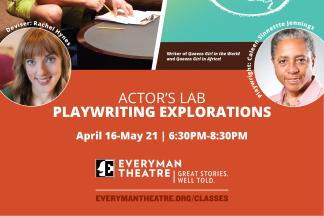 Co-taught by esteemed actor, devisor, and teaching artist, Rachel Hynes, and Caleen Jennings, playwright of QUEENS GIRL IN THE WORLD and QUEENS GIRL IN AFRICA - Everyman's season enders produced in rep this spring - this is sure to be an adventure in creativity and collaboration.
Dive into STORY. Want to create your own work? Not sure where to begin? Gain fundamental knowledge, build dramatic language, and begin the process of bringing a character's voice from an idea, to the page, and then to the stage.
Event Contact
410-615-7055 x7142
Event Details
Tuesday, April 16, 2019, 6:30 PM – Tuesday, May 21, 2019, 8:30 PM
Repeats weekly Tuesday -- until Tuesday May 21, 2019.
Prices: – Array
410-615-7055 x7142
Location
Add Event To Your Calendar