Casually Dope: An Improv Comedy Show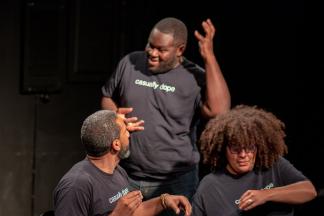 Casually Dope invites you to start your Saturday night with us. Turning the stories of our community into comedy, each show we'll invite a guest or just chop it up with audience and use those discussions to create a show like none other. You might learn something, you might not, but you'll definitely leave full of laughter.
Baltimore Improv Group (BIG) serves as the city's leading non-profit improv comedy venue. BIG began in 2004 and now entertains with over 120 shows each year. With an annual audience of over 5,000 people, over 100 regular performers present audiences with shows every night of the week. As part of Young Audiences of Maryland (YAMD), BIG performs in assemblies and teaching residencies in Maryland schools.
The BIG Theater opened in October 2017 in Station North. The theater offers 3,000 square feet of space for shows; classes and workshops for adults, kids and teens; a podcast studio. BIG shows include improv comedy, stand-up, sketch, and more.
WJZ CBS 13 covers Baltimore Improv Group
Event Contact
Event Details
Repeats weekly Saturday -- until Saturday December 28, 2019.
​(888) 745-8393
Free
Location
Add Event To Your Calendar