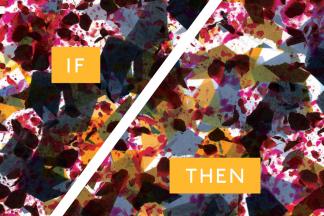 IF/THEN
A movement investigation of cause and effect
The Collective Dance Company
March 22 & 23, 2019
The Collective, Baltimore's hub for movers and shakers, presents an evening length work examining the social, political, and personal effects of various root causes. What is the impact of personal or life choices? How does a cause and effect relationship translate to movement? Using a variety of movement vocabularies, The Collective seamlessly weaves cause and effect relationships based on investigations in and around human relationships, scientific method, and the current social/political climate.
Choreography by Alayna Baron, Blake Caple, Lynne Price, and Kristen Yeung and Guest Choreography by Jeffrey Gunshol.
The Collective will be joined by the following special guest artists:
Friday March 22nd @ 8pm — Candace Scarborough
Saturday March 23rd @ 2pm — EMpowered Dance Center under the direction of Emily Norris and The Community Project 2019
Sat March 23rd @ 8pm — Camille V. Weanquoi/Akani Collective
The performance will run in two acts with a fifteen-minute intermission.
Event Contact
Sonia Synkowski
4438507224
Event Details
Friday, March 22, 2019, 8:00 PM – 9:30 PM
Saturday, March 23, 2019, 2:00 PM – 3:30 PM
Saturday, March 23, 2019, 8:00 PM – 9:30 PM
410-752-8558
Location
Add Event To Your Calendar