Free Art Workshop for Kids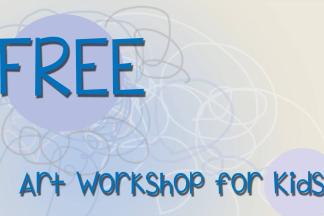 This year MAP will also be hosting a FREE workshop for kids scheduled for Saturday, March 16th from 11am -2pm. The workshop will be led by local artist Wesley Clark and has been made possible by the Deacon Jones Foundation. All artwork created during the workshop will be hung in KIDOOO and up for silent auction on April 5th (limit one work per student in the auction). Materials will be supplied! Youth aged 5 -16 are welcome to participate. RSVP required.
ABOUT WESLEY: Wesley Clark was born in Washington, DC and currently resides in Hyattsville, MD. He received his Bachelor of Fine Arts in painting from Syracuse University and a Master of Fine Arts from The George Washington University. Clark's work is in the permanent collection of the Asheville Art Museum in North Carolina. He has also received commissions from The American Alliance of Museums and has been a panelist at the College Arts Association conference. Additionally, he has a number of public artworks throughout the DC Metropolitan area. Galerie Myrtis in Baltimore, MD, and Tinney Contemporary in Nashville, TN represent him.
For the third year, MAP is happy to offer KIDOOO, our version of Out of Order for kids ages 5 -16. KIDOOO was created as an opportunity for young artists to exhibit their work in a major arts venue; extending MAP's services to students in elementary, middle and high school level art classes. The opening of KIDOOO will take place in tandem with Out of Order on April 5 from 7 to 10pm on the 2nd floor of the MAP building. KIDOOO Install day will take place, Saturday, March 30 from 11am to 4pm. Parents will receive reduced tickets to the opening ($25) while participating youth artists will receive FREE admission to KIDOOO on April 5th.
Maximum of 30 participants, based on a first come first served basis. Please RSVP to [email protected]
Event Contact
shelby
Event Details
Saturday, March 16, 2019, 11:00 AM – 4:00 PM
Free Admission
Location
Add Event To Your Calendar