The Alcazar Hotel and the Graham House: Historic Buildings at the Baltimore School for the Arts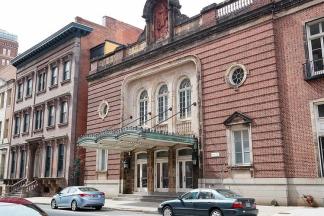 In addition to producing fantastic young musicians, the Baltimore School for the Arts has produced some fantastic history from its Mt. Vernon campus! The high school on Cathedral Street incorporates two historic buildings: The former Alcazar Hotel and Ballroom and a mansion owned by the Alex Brown banking family. Now used to train up-and-coming Baltimore artists, both buildings have rich histories in their own right.
The Alcazar Ballroom and Hotel opened in 1924 for the Knights of Columbus and throughout its long run, hosted innumerable Cotillion dances for Baltimoreans as well national celebrities the likes of Charles Lindbergh. It became part of the School for the Arts in 1980. In 2004, the school expanded by taking over the former Graham House. Built in 1850, it was the home of William H. Graham, the son-in-law of the second chairman of Alex Brown & Sons financial institutions, George Brown. Known as one of the finest townhouses of the day, by the 1930s it had become apartments and its tenants included H.L. Mencken during his very brief stint away from his family home in Union Square and when he was married to Sara Haardt .
Please join us and our tour guide Mr. Michael Solomon, a longtime School for Arts teacher and unofficial historian of the campus, to learn about these two historic buildings and see first hand how the School for the Arts is now using them. The tour will take place during rehearsals and practices and we'll get glimpses of the art students in action.
Our Baltimore Behind the Scenes Tours program has been funded by Mayor Catherine E. Pugh and the Baltimore Office of Promotion and the Arts.
Event Contact
Johns W. Hopkins
4103329992
Event Details
Saturday, March 16, 2019, 10:00 AM – 11:30 AM
4103329992
Location
Add Event To Your Calendar