Yarrow Mamout in Baltimore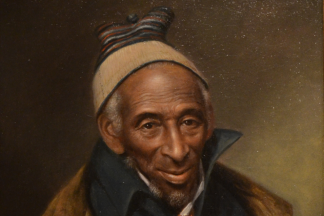 In 1819, Yarrow Mamout was an 84 year old craftsman, land-owner, financier and devout Muslim, who made his home in Georgetown after enduring over 40 years of slavery. Born in Guinea in 1736, he was enslaved and brought to Maryland at just 16 years old, and after gaining his freedom, became well-known and respected for his entrepreneurship, work-ethic, and cheerful spirit.
In January 1819, Charles Wilson Peale completed his portrait of Yarrow, one of only two portraits of people of African descent he would paint throughout his career. In February of 1819, that portrait was displayed at the Peale Museum in Baltimore for one weeks time, alongside Peale's other recently completed portraits of famous Americans.
200 years later, join us for a panel discussion to explore the incredible life of Yarrow Mamout, the significance of this painting, and the history of Muslims in America in the 19th century.
Panelists include Amir Muhammad, curator of America's Islamic Heritage Museum and Cultural Center and author of Muslims in America and Jim Johnson, author of the only biography of Yarrow Mamout and his family, From Slave Ship to Harvard.
This event is FREE, with a $10 Suggested Donation to the Peale Center.
Stay for a 4PM Time Travel Tour at the Peale for an additional $20. Limited to 12 guests. More info at www.time-travel.tours
Event Contact
301-787-4250
Event Details
Saturday, March 2, 2019, 2:00 PM – 3:30 PM
Free Admission
Location
Add Event To Your Calendar