MICA's 4th Annual Benefit Drag Show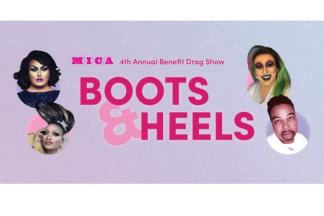 Location: MICA The Gateway (BBOX)
Join MICA's Faculty and Staff Queer Alliance (FASQA) for their 4th Annual Gender Performance Show! This is a fundraiser for the LGBTQ scholarships at MICA; therefore all proceeds will go directly towards scholarship funding.
The headliners are Baltimore Queens and Kings:
Miss Sue Nami
Chris Jay
Dee Dee Dereon
Venus Festrada
There will also be performances by MICA's staff, faculty and students. Tickets are $5 for MICA students (sold at the door), $10 for general admission, and $20 for VIP passes (includes priority seating, snacks/drinks before the show and during intermission).
Pictures from the 2017 Show: http://www.citypaper.com/photos/bcpnews-boots-heels-fasqa-2nd-annual-gen...
The FASQA Award was created to recognize student achievement and contributions to the LGBTQIAP community. Two prizes are awarded yearly, one to a student who demonstrated financial need and another to a student involved with and/or commitment to the LGBTQIAP community and issues.
6 Rules/Norms for Attending a Drag Show
1. Tip the performers (it's customary to tip with $1 bills if you enjoy the show)
2. Show your love for all performers! (cheer, clap, stomp your feet...let the performers hear you)
3. Don't become the show (never get on stage uninvited and avoid walking in front of the stage during the performance)
4. Be prepared for performers to interact with you (especially if you're near the stage or runway)
6. Keep your hands to yourself (don't initiate physical contact with a performer)
7. Have fun!
If you have any questions, please contact FASQA at [email protected].
Event Contact
Karol Martinez-Doane
Event Details
Thursday, February 21, 2019, 8:00 PM – 10:00 PM
Location
Add Event To Your Calendar