Hometown Girl: Contemporary Quilts of Mimi Dietrich Exhibition Opening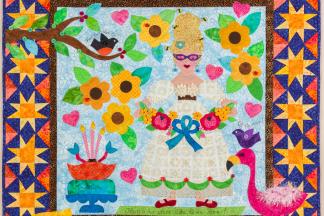 "Hometown Girl: Contemporary Quilts of Mimi Dietrich" is a new exhibition at the Maryland Historical Society featuring one-of-a-kind appliqué quilts created by Baltimore-native Mimi Dietrich.
The opening reception on March 23 includes a lecture by Mimi Dietrich, 2-3 pm, followed by a reception and gallery tour, 3-5 pm. Cost is $10 members/ $15 nonmembers.
Ms. Dietrich is one of Maryland's and the nation's most accomplished quilters. In 2015 she was inducted into The Quilters Hall of Fame in Marion, Indiana. "Hometown Girl" tells Ms. Dietrich's story as a life-long Marylander and Baltimore native, and draws inspiration from the many students she has taught over her 35-year career.
Ms. Dietrich's quilting technique focuses on appliqué, which involves stitching smaller pieces of fabric onto a larger piece of fabric in a decorative manner. It is the signature technique used in Baltimore Album Quilts. To date, MdHS boasts almost 60 quilts made in the Album Quilt style and is considered one of the country's foremost quilt repositories. Several of the museum's Album Quilts—particular favorites of Ms. Dietrich's—will also be displayed in the "Hometown Girl" exhibition.
Ms. Dietrich is the author of 17 books, and currently teaches a yearlong class focused on Baltimore Album Quilts. She is a founding member of The Village Quilters in Catonsville and the Baltimore Appliqué Society.
Event Contact
Jennifer Michael
410-685-3750
Event Details
Saturday, March 23, 2019, 2:00 PM – 5:00 PM
410-685-3750
Location
Add Event To Your Calendar