The Colored School Foundation Presents "Phenomenal Woman" Starring Ami Brabson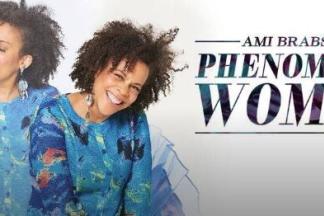 Please join us for an inspiring tribute you don't want to miss.
In celebration of Women's History Month, the Havre de Grace Colored School Foundation (CSF) is proud to present an encore performance of Ami Brabson's Phenomenal Woman. An accomplished actress and vocalist, Ami captivates audiences with a riveting performance inspired by the Maya Angelou's poem "Phenomenal Woman." Ami explores the many facets of being a phenomenal woman as she weaves stories into songs inspired by Ruby Dee, Phoebe Snow and Congresswoman Barbara Lee. …inspiration, resilience, motivation, finding our power and honoring those who have come before us. This evening of music, poetry and storytelling celebrates women who have dared to speak their minds.
As a special tribute, the CSF will honor the following distinguish alums from the Havre de Grace Colored School for their life's accomplishments, integrity and demonstrated commitment to the highest standards of civic and social responsibility.
The list of honorees will include:
Mrs. Catherine Burks
Mrs. Cora Fleming
Mrs. Janice Grant
Ms. Mabel Hart
Ms. Cynthia Laurie
Mrs. Christine Tolbert
ABOUT AMI BRABSON
Ami Brabson has had recurring roles in a number of television shows. She frequently appeared as Mary Pembleton in HOMICIDE: Life on the Streets. Ms. Brabson played Allison Trivas, a recurring character in THE JURY, another Barry Levinson/Tom Fontana production. Other TV credits include LAW & ORDER SVU, DAMAGES, UNFORGETTABLE, LAW & ORDER, THE BEAT, WONDERLAND and various Soap Operas.
Ms. Brabson's stage credits include the New York Premiere of TOUGH TITTY by Oni Faida Lampley. Some of her favorite regional theater roles are Faye in Dominique Morisseau's SKELETON CREW, Quilly in John Henry Redwood's THE OLD SETTLER, Rose in August Wilson's FENCES, Helena in Shakespeare's A MIDSUMMER NIGHT'S DREAM, and Berniece in August Wilson's THE PIANO LESSON.
Ms. Brabson is an accomplished soprano and cabaret singer. She has performed at New York City venues as varied as Merken Concert Hall, The Metropolitan Room and Ashford & Simpson's Sugar Bar.
Event Contact
Rebecca Jessop
443-502-2005
Event Details
Saturday, March 16, 2019, 2:00 PM – 4:00 PM
443-502-2005
Location
Add Event To Your Calendar