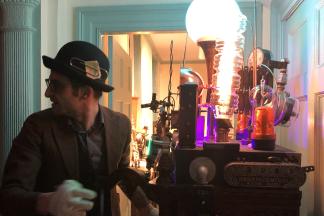 In January, 2018, the Peale received a mysterious package which included detailed plans on how to build a 200-year time machine.
The decision was made to follow the plans and build the time machine in secret. After nine-months of construction at a remote location, the time machine has been thoroughly tested and proven safe, and we are thrilled to now offer Time Travel Tours to the general public, as well as researchers, educators and historians.
After activating our 200-Year Time Machine, embark on a guided tour of Rembrandt Peale's study in the year 1819. Time Travel Tours are currently led by David London, a storyteller, historian and Certified Time Travel Agent, who will accompany you on your journey, and illuminate the many wonders you will encounter.
TIME TRAVEL TOURS INCLUDE UP TO 40 MINUTES OF ACTUAL TIME TRAVEL!
Other tour times are also available, including Sundays from 3-5pm or by appointment.
Event Contact
Nancy Proctor
Event Details
Repeats weekly Friday -- until Saturday March 2, 2019.
Location
Add Event To Your Calendar