It's More Than History! - East Baltimore's "Reservation"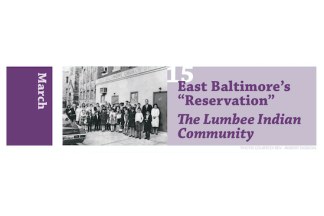 East Baltimore's "Reservation" - The Lumbee Indian Community
Following WWII, many Lumbee Indians from rural North Carolina moved to Baltimore, forming a large satellite community with numbers reaching into the thousands. Baltimore's Lumbee community is absent from popular narratives of the city, and has even been referred to as "invisible." The March lecture will shed light on this Baltimore community and its people and places.
Presenter: Ashley Minner is an enrolled member of the Lumbee Tribe of North Carolina and folklife specialist for the Maryland Folklife Network.
Event Contact
Jason Vaughan
410.878.6411
Event Details
Friday, March 15, 2019, 12:00 PM – 1:00 PM
Free Admission
Location
Add Event To Your Calendar