Columbia Pro Cantare: Twentieth Century European Composers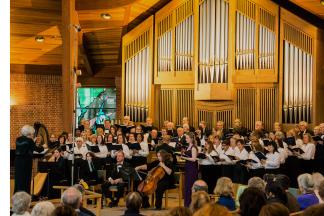 The Columbia Pro Cantare chorus showcases works by 20th-century European composers in its 4 pm, March 17, 2019, concert at First Evangelical Lutheran Church in Ellicott City. Joining the full chorus and the CPC Chambers singers will be tenor Jason Berger, Jacquline Polaauf, harp, and Donald Fries, organ.
The program will include works by Gabriel Fauré (Cantique de Jean Racine and Ave Maria), Maurice Duruflé (Ubi Caritas), Cesar Franck (Panis Angelicus), André Caplet (Deux Divertissements), Louis Vierne (Bercuse). Lili Boulanger (Hymne au soleil and Les sirènes), and Leoš Janáček (Otče Naš).
Tickets are $20, $18 (students and senior citizens) in advance; $2 more at the door. Children 5-15: $10. To order tickets, visit www.procantare.org or call 410.799.9321 or 301.854.0107.
Event Contact
Elladean Brigham
4106962888
Event Details
Sunday, March 17, 2019, 4:00 PM – 5:30 PM
410.799.9321
1
Offer good
02/05/19

to

03/05/19
Redemption Instructions
Mail order only. Send to Deborah Towner, 12339 Pleasant View Drive, Fulton, MD 20759. Include number of tickets, your phone number and check made payable to Columbia Pro Cantare. Tickets will be mailed.
Location
Add Event To Your Calendar