The Construction Zone in The Atrium at Port Discovery sponsored by M&T Bank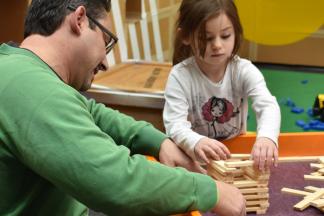 Admission is free for members and children under two. Visitors enter for $5 per person. Located in the Atrium at Port Discovery (directly next door to the Museum's main entrance). Hours announced on a monthly basis.
Design and make a mini-robot, build with giant life-sized building blocks, launch rockets towards the moon, create your own theatrical play and more in The Construction Zone in the Atrium at Port Discovery sponsored by M&T Bank!
Design! Can a robot make real art? Find out when you design and build a mini-robot in the Prototype & Play area. Be an architect as you draft and draw plans for a new playground, building, and more with spirographs and lightboxes. Build and draw at building and art stations.
Build! It's a block...it's a plane...it's a castle! When you add imagination to giant, life-sized blocks, there's no limit to what you can create. As you build, dress up using hats, goggles, puppets, and more – and work together to create a scene straight out of your dreams.
Launch! 3...2...1...Blastoff! Launch a rocket towards a mini-moon and explore how physics helps things fly (and land). Plus, learn about space in a hands-on Sun, Earth, Universe mini-exhibit.
Act! Take 10! Dress up, dance, sing, act – and take center stage in the Black Box Theater! Plus enjoy interactive theater performances including puppets, silly scientists, singers, dancers and other family-friendly performers.
Move! Jump around and play games in our Game Zone. Crawl and toddle around The Oasis. Enjoy drop-in performances and programs that are playful and educational.
Please check www.PortDiscovery.org for the most up-to-date operating hours. Admission will be $5 per person for general admission visitors. Members and children under two will enter for free. The Construction Zone is located in the Atrium at Port Discovery Children's Museum (directly next door to the main Museum). Presenting sponsor: M&T Bank. Supported in part by W.R. Grace.
Event Contact
Casey Roberts
4107278120
Event Details
Repeats weekly Saturday -- until Saturday April 13, 2019.
Location
Add Event To Your Calendar