Beyond Beautiful: One Thousand Love Letters; Cupid's Arrow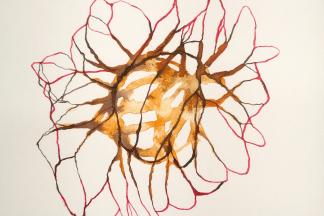 The power of romantic love and its sway. Cupid's Arrow, taking place on the eve of Valentine's Day, indulges in romantic love.
The 5:30-6:30pm reception period is graced with jazz keyboardist George Spicka, and light fare provided by The Classic Catering People. With an assist from the Greater Baltimore Cultural Alliance, the event includes audience members sharing their own testimonials of Valentine's love, and a special interactive love letter writing activity by performance artist Spoon Popkin.
The 6:30-8:00pm program features Nicole and Alonzo Lamont with a tale of stolen moments blooming into a marriage; cabaret performer Betsey Hobelmann honoring 18 years of marriage with a song; husband, father, scholar-activist, storyteller, and drummer David Fakunle praising his love; and more.
Jazz vocalist Simone Speed offers song throughout the evening, and a recognition moment is given over to Ken Royster, whose photograph of a young couple included in the exhibition perfectly invokes the theme of romance.
Event Contact
Maryland Art Place
4109628565
Event Details
Wednesday, February 13, 2019, 5:30 PM – 8:00 PM
Free
Location
Add Event To Your Calendar