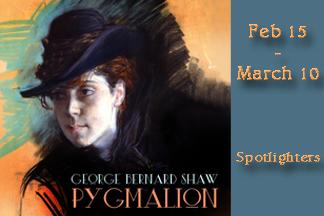 Pygmalion
George Bernard Shaw
Directed by Sherrionne Brown, with Phillip Gallagher
02/15/19 - 03/10/19
Fri & Sat at 8pm; Sun at 2pm
Tickets: Adults $24; Seniors, Students, Military: $21
FUN NIGHT FRIDAY -- all Friday Night Tickets are just $19

Eliza Doolittle, an intelligent, but poor woman who sells flowers . . . crosses paths with Henry Higgins, a boorish, insensitive, but brilliant linguist who studies phonetics. He realizes we are all equal under the skin and that social class is a matter of skilled behavior. What starts as a phonetic experiment becomes a social experiment. As these two headstrong people spar, we follow Eliza through to her emotional and financial independence, as Eliza herself realizes she was already a lady. The sparkling wit and biting humor of Shaw's script has made Pygmalion into a classic which has endured for over a century, still speaking to us about the false constructs of social class and wowing us with a portrayal of a strong woman who overcomes the conventions of her time.
Opening Night Reception: Fri, Feb 15, 2019 immediately following performance
Ten Spot Thursday: Feb 21, 2019 All tickets for this performance just $10
Talk Back: Sun, Mar 3, 2019 Post Show discussion with cast & director following the matinee performance.
Event Contact
Fuzz Roark
4107521225
Event Details
Repeats weekly Friday and Saturday -- until Sunday March 10, 2019.
Repeats weekly Sunday -- until Sunday March 10, 2019.
410-752-1225
1
Offer good
01/23/19

to

03/08/19
Redemption Instructions
Online Orders ONLY
Order at www.spotlighters.org/pygmalion
Use Discount Code: Flowers
Limited number of tickets -
4 per order / 12 per performance
Location
Add Event To Your Calendar