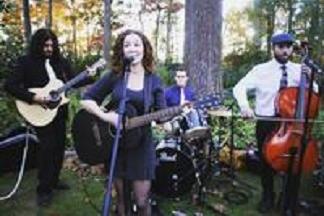 Ebb & Nova combines an alternative blend of indie and folk to create "Honest, heartfelt music that seeps into the soul and slowly fills you up with nostalgic, melancholic happiness. The entwining lyrics with plenty of vivid imagery, combined with the soft vocals and instrumentation really make Ebb & Nova something special." - AlexrainbirdMusic
Ebb & Nova are songwriters Lauren Padgett (vocals, guitar) and Matthew Purpora(lead guitar), from Baltimore, MD, who started the band in 2015 as a duo. In 2016, they were accompanied by Steven Bainbridge (cello) and Patrick Brynes (percussion). The band gained recognition with their win of the Hard Rock "Sound Off Live" competition, putting them on festival main stages for months to come. Utilizing this momentum and their 'do it yourself' attitude, Ebb & Nova quickly gained a local following and started touring the coast. This self made success propelled the band to create their debut album, which was released November 2017 and is available on all major music services. The single "A Devil's Curse" was featured on WHCP's Indie City program shortly after, and their single "Molly" can be heard on Baltimore's 89.7 WTMD.
Pulling from each of their four unique influences, which include artists such as Coheed and Cambria, Yo-Yo Ma, Stewart Copeland, and Death Cab for Cutie, Ebb & Nova is able to weave emotional depth and panoramic styling in their lyrical songwriting and precise instrumentation. A vibrant combination of personality and professional musical performance commands Ebb & Nova's sets and drives them forward for each and every show.
Event Contact
Cyd Wolf
410-752-4515
Event Details
Saturday, March 16, 2019, 6:00 PM – 9:00 PM
1
Offer good
03/12/19

to

03/16/19
Redemption Instructions
Five tickets are offered at half-price for each Cabaret performance. To claim yours, please call Germano's PIATTINI to make a reservation for dinner and the show. Mention this CultureFly discount when you do so. We will process your half-price ticket purchase during your call. Thank you! (410) 752-4515
Location
Add Event To Your Calendar