Arts Every Day's 10X10 Exhibit: In Partnership with Baltimore Ceasefire 365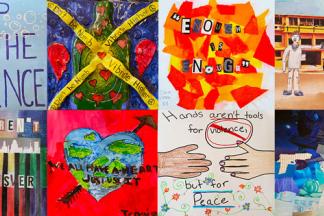 January 7, 2019 (Baltimore, MD) – Arts Every Day will be hosting its third annual 10x10 Exhibit featuring over a hundred student and teacher artworks from Baltimore City Public Schools that respond to a culturally relevant body of work or movement. The exhibition, curated by Alexis Dixon, a recent MICA Curatorial Practice Graduate, and Baltimore Ceasefire Youth Ambassadors Shayla Williams and Destini Philpot, will be on view at the Motor House from January 10 – February 28, 2019 with an opening reception held on January 17, 2019 from 5-7pm.
Arts Every Day believes in the power of art to build community, provide an avenue for youth expression, and introduce new lessons and concepts in the classroom. This year, Arts Every Day's 10x10 Exhibit is inspired by the efforts of Baltimore Ceasefire- a movement that works tirelessly throughout the city to build empathy and compassion and send messages of peace while promoting:
- non-violent conflict resolutions through resources, community gatherings, and outreach;

- respect for others and oneself through conversations and connections with one another;

- celebration of life through life-affirming events where stories are shared with each other;
- respect and understanding of community through encouraging youth to explore their city.
Heeding the voices of a community's youth is crucial to the evolution, sustainability, and vibrancy of the whole. Their outlook, full of truth and insight, offer up a fresh perspective on how young people envision and anticipate their tomorrow. Arts Every Day's 10X10 Exhibit, in collaboration with Baltimore City Schools and Baltimore Ceasefire 365, takes viewers on a journey through the lenses of Baltimore's youngest visionaries. Through their art and design practices, these young artists express candidly how they view their immediate and surrounding communities, noting the presence of violence and injustice. The exhibition tails by urging a communal shift towards a non-violent, non-judgmental, safe, and peaceful Baltimore; each of these values falling into sync with Baltimore Ceasefire 365's mission and movement.
These young voices deserve to lead lives filled with hope, peace, and light, as they so vividly depict in their artwork. For this to manifest, viewers are urged to turn their gaze inward and ask of themselves: What is my responsibility in creating a tomorrow where the youth of Baltimore and my community have an equal opportunity to thrive?
Schools and Programs Participating in the 10X10:
Academy for College and Career Exploration #427
Access Art
Art With a Heart
Augusta Fells Savage Institute of Visual Arts High School
Angela Y. Davis Leadership Academy
Baltimore Ceasefire Youth Ambassadors
Baltimore Design School
Carver Vocational Technical High School
City Neighbors Charter School
City Neighbors Hamilton
Creative City Public Charter
Gwynns Falls Elementary
Hazelwood Middle School
Highlandtown #215
Jubilee Arts
Kipp Harmony Academy
Mergenthaler Vocational-Technical High School
Moravia Park Elementary School
Morrell Park Elementary Middle School
Mount Royal Elementary Middle School
National Academy Foundation
Patterson High School
Roland Park Elementary Middle School
Vivien T. Thomas Medical Arts Academy
Wildwood Elementary Middle School
William Paca Elementary School
Western High School
BCCC Refugee Youth Project
About Arts Every Day
Arts Every Day (AED) is proud to be a driving force in building and sustaining a Baltimore City that values public education through creativity, art, and culture. A 501(c) 3 founded in 2006 as one in only eight organizations originally funded by the Ford Foundation, AED works to ensure all Baltimore City Public Schools students have access to the arts every day through arts education, arts programming, and arts-integrated instruction. Arts Every Day works toward this goal through the forging of partnerships with schools and the arts and cultural community over the long-term to inspire lasting change. For more information visit www.artseveryday.org.
About Baltimore Ceasefire 365 Youth Ambassador Program
The ultimate goal of Baltimore Ceasefire 365 is for everyone in the city to commit to zero murders. Through outreach on ceasefire weekends, we connect with residents by engaging in honest, safe, and healing exchanges about violence, in particular, gun violence. We encourage "vibrating higher" to facilitate development of positive consciousness and life-saving conversations on how to handle conflict differently while making commitments to one another to be non-violent in thoughts, words, and deeds, for AT LEAST one weekend. We strive to see change in the narrative of what Baltimore actually is. Beyond street violence, beyond drugs, beyond murder- Baltimore is love. That is what the youth wants you to see. We give voice to youth that are silenced and/or ignored. Through Ceasefire, we take part in a movement bigger than ourselves, bigger than Ceasefire, and based on all citizens in the city, because everyone together is what makes Ceasefire work.
Event Contact
Betty Gonzales
410-685-1172
Event Details
Thursday, January 10, 2019, 3:00 PM – Thursday, February 28, 2019, 7:00 PM
Free Admission
Location
Add Event To Your Calendar