Keystone Clay: East Opening Reception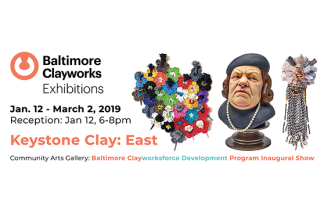 Baltimore Clayworks is excited to host Keystone Clay: East from January 12th to March 2nd, 2019. Please join us for an opening reception Saturday, January 12th from 6-8pm.
This is the first of two exhibitions showcasing the ceramic programs at Pennsylvania colleges and universities. Our three Galleries will be displaying work from the professors and their students side by side, highlighting the ceramic education and inspiration. East will feature work by artists from Millersville University, Moore College of Art and Design, Philadelphia University of the Arts, Tyler School of Art and Westchester University.
Also on display will be Baltimore Clayworksforce Development Program Inaugural Show from January 11th to March 2nd, 2019. There will be a soft opening reception with the students on Friday, January 11thfrom 1-2:30.
Baltimore Clayworks Community Arts program has partnered with Baltimore City Public Schools Transition Services of the Office of Special Education to create a new, innovative classroom where students explore creative ceramic practices along with developing skills they can apply to future work environments. The youth in this program are between the ages of sixteen and twenty-one and are new to ceramics. Over the past few months they have developed fundamental ceramic skills along with a knowledge of studio maintenance, firing practices and glazing. The students have had a chance to develop their fine motor skills and practice articulating and discussing their creative process in addition to developing a basic understanding of ceramic techniques. Along with the art work, students' artist statements are on display throughout the space.
Both exhibitions are free and open to the public
Event Contact
Sara Morales-Morgan
4105781919
Event Details
Saturday, January 12, 2019, 6:00 PM – 8:00 PM
Free
Location
Add Event To Your Calendar