Festive Brass and Organ Concert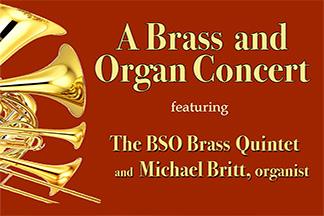 This holiday Brass and Organ concert features the Baltimore Symphony Orchestra's "top brass" players (literally!) and organist Michael Britt, who will play Brown Memorial Church's renowned 1931 Skinner organ. The first half of the program will offer traditional brass and organ pieces by Handel, Mozart, and Strauss. It also includes Daniel Gawthrop's "Sinfonia Festiva." The second half will present a medley of holiday favorites.
The BSO Brass Quintet is comprised of Principal Trumpet Andrew Balio, Assistant Principal Trumpet René Shapiro, Principal Horn Phil Munds, Principal Trombone Aaron LaVere, and Principal Tuba Aubrey Foard. They will be joined by BSO percussionist Chris Williams.
Tickets are $20 (Students get Free admission). Free parking in the school lot off the 100-block of Mosher Street, and free shuttle service, will be available.
This festive Tiffany Series concert—which is perfect for both adults and young people— is a great way to start the holiday season!
Event Contact
Shirley Parry
443-838-3960
Event Details
Sunday, December 9, 2018, 7:00 PM – 8:15 PM
410-523-1542
1
Offer good
11/28/18

to

12/09/18
Redemption Instructions
Bring a copy of the half-price offer to Will Call (at the door).
Location
Add Event To Your Calendar