A Horse By The Tail In The Night - Episode Six of The Institute of Visionary History and the Archives of the Deep Now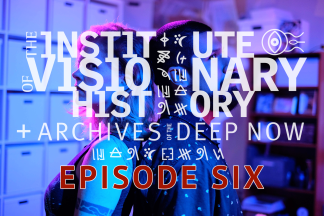 This self-contained episode is an 8-hour durational performance. You may chose the length of your stay. Please purchase a ticket for each time slot you wish to attend. For your first hour, please select a "FIRST HOUR" ticket. For any hour after your first, select an "Additional Hour" ticket. For instance, if you wish to attend from 3pm to 5pm, you should buy one FIRST HOUR ticket for 3pm and one "Additional Hour" ticket at 4pm for each member of your group.
Your stay does not need to be continuous—your First Hour and Additional Hour times can be hours apart. All FIRST HOUR tickets provide access to the debriefing area, where you can continue to view the experiment on-screen for as long as you wish.
Episode Description:
Two obscure aristocrats are fated to dine together indefinitely over the course of an evening that will not cease. Cursed with abundance, they chew away the hours, their food and drink complemented with the bitter fruits of their recollections; spiced with regret and desire, mellowed with well-worn stories. Any attempt to exhaust the inexhaustible is doomed to fail. But like a finely cured meat there is pleasure to be had in consuming the decay and even more in sharing it with whom you may.
Actualized by Francisco Benavides and Lisi Stoessel.
As a set of stories are told and re-told over the course of eight (yes, 8) hours, the audience has a choice: Stay for an hour and experience one course of a larger meal? Stay for a longer stretch as the stories evolve and devolve? Drop in and out over the course of the day? Purchase your tickets accordingly.
The Institute will arrange a special debriefing area for this episode where you can continue to view the experiment once your time in the main space is up. You will be allowed to remain in the debriefing area for as long as you wish. All attendees will be invited to return at 8pm to celebrate that which we have wrought.
-----------------------------------
The Institute is recommended for ages 12 and above. You will be required to ascend and descend at least two staircases at a relaxed pace. Plan to arrive a full fifteen minutes before your scheduled start time and to spend about an hour (or more if you choose) at The Peale. Beverages and light snacks will be available (donations appreciated). Restrooms will be accessible before and after the experience. Coat racks and safe storage for bags will also be available.
Updates and more info:
https://facebook.com/visionaryhistory/ 
Event Contact
Submersive Productions
Event Details
Saturday, November 10, 2018, 12:00 PM – 8:00 PM
Saturday, November 17, 2018, 12:00 PM – 8:00 PM
1
Redemption Instructions
Select a "FIRST HOUR - Guest Researcher" ticket for the first hour you wish to attend and enter the discount code "CULTURE" for $7.50 off. (If you wish to stay longer, you can select the regular $7 tickets for later entry times.)
Location
Add Event To Your Calendar