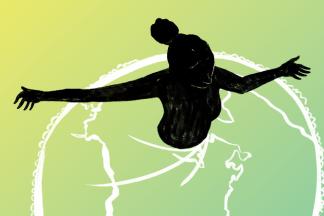 **NOTE: Run dates now May 7 - Jun 23.** Honest, funny, and dancing with heart, Queens Girl in the World chronicles the misadventures of bright-eyed, brown-skinned Jacqueline Marie Butler, whose sudden transfer from a protective, middle class late-1950s upbringing in Queens to a progressive, predominantly-Jewish private school in Greenwich Village, adds comical confusion to her already quizzical, fish-out-of-water adolescence. Lively and poignant—and punctuated with the irresistible sound of Motown—Queens Girl in the World tags along for a young woman's journey of self-discovery, at the onset of Civil Rights-era social change.
Event Contact
Jenny Klump
Event Details
Wednesday, June 19, 2019, 7:30 PM – 10:00 PM
Repeats weekly Sunday and Tuesday and Wednesday and Thursday and Friday and Saturday -- until Sunday June 23, 2019.
4107522208
Location
Add Event To Your Calendar