Structure and Perspective: David Brewster Explores Maryland's Social Landscape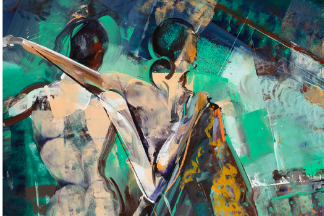 "Structure and Perspective" brings together commissioned works by Maryland-born artist David Brewster with objects from the Maryland Historical Society's collection. This marrying of old with new, contemporary with "antique," creates a dialogue that inspires thought-provoking discussions of how the objects of the past remain relevant to today's ever-changing social landscape. It also highlights Brewster's often challenging perspective on the modern world, one that looks to the overlooked or unseen. Brewster's commissioned works focus on challenging and complex themes like gender, race, urban decay, suburban sprawl, environmental conditions and the political tensions in America today. Many objects within the Maryland Historical Society's collection are relevant to the themes Brewster examines in the ever-changing social landscape of today's Maryland.
Event Contact
Jennifer Michael
410-685-3750
Event Details
Repeats weekly Sunday and Wednesday and Thursday and Friday and Saturday -- until Thursday February 28, 2019.
410-685-3750
Location
Add Event To Your Calendar