Funky Junque Jewelry: Free Your Spirit!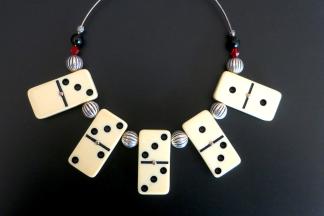 Create original jewelry or a hanging ornament for your home or garden. You might assemble 5 pairs of earrings or start on a wire sculpture. Students are introduced to design elements, methods of capture and assemblage with wire, fiber, recycled and found materials as well as basic jewelry finishing techniques. Feel free to bring your box of unused and random treasures. Leave with the skills to continue working independently.The nature of Funky Junque encourages total freedom and personal vision. Each class is inspired by our connections to the energies of the universe.
Oct. 6, 2018 Funky Junque Jewelry: Release and Nurture
Invite the creative process to support the release of what you may no longer need and nurture what you seek. Create a piece of jewelry or series of pieces that incorporate the healing properties of semi-precious stones and funky odds and ends.
Feb. 9, 2019 Funky Junque Jewelry: Symbols of the Season
Extra hearts and love themed materials will be included in the available supplies for this class. Create for yourself or someone you love using rose quartz, the love strengthening stone, along with our stash of funky elements and your box of treasures.
April 13, 2019 Funky Junque Jewelry: Getting Fresh
Celebrate spring and renewal with designs that are playful and fun. Set the intention to learn a new technique or work with a different material in this class. Expanding your toolbox and horizons opens doors to growth within your work.
Instructor Sara Murphy has taught art in Baltimore County Public Schools for the past 15 years and Funky Junque Jewelry for Common Ground at McDaniel College in Westminster, MD for 5 years.
Event Contact
443-801-0841
Event Details
Saturday, October 6, 2018, 10:00 AM – 4:00 PM
Saturday, February 9, 2019, 10:00 AM – 4:00 PM
Saturday, April 13, 2019, 10:00 AM – 4:00 PM
Prices: – Array
443-801-0841
Location
Add Event To Your Calendar
What Others Are Saying
"This is the most fun jewelry making class that you can ever take. Total beginners were hammering metal, connecting and creating with random jewelry parts, and embellishing the toy slinky. Jewelry tools no longer intimidate me."" Funky Junque Participant