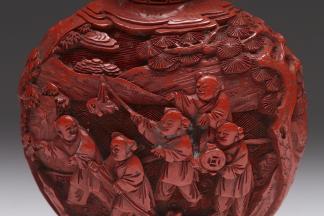 Nearly 250 exquisite Chinese snuff bottles, delicately crafted from stone, glass, porcelain, ivory, lacquer, enamel, and precious metals, will be on view in the galleries of the Walters' palazzo-style court. Once personal adornments and handsome gifts, these extraordinary examples of technical and artistic virtuosity were made to hold snuff, a mixture of finely ground tobacco leaves, spices, and aromatic herbs. Snuff was valued for its stimulating effects and purported medicinal benefits, but it also became an important part of socializing in Chinese society during the Qing Dynasty (1644–1911). This installation is organized in conjunction with the 50th Annual Convention of the International Chinese Snuff Bottle Society to be held in Baltimore, Autumn 2018.
Event Contact
Gabriella Souza
4105479000
Event Details
Wednesday, November 14, 2018, 10:00 AM – Wednesday, January 23, 2019, 6:00 PM
Repeats weekly Sunday and Wednesday and Thursday and Friday and Saturday -- until Sunday December 9, 2018.
Free Admission
Location
Add Event To Your Calendar