Asia in Maryland: Expressing Cross-Cultural Experience (Exhibition)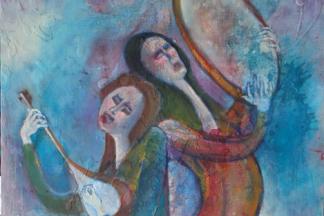 Asian Arts Gallery, Center for the Arts (CA 2038)
September 7 – December 8, 2018 (closed Nov. 21-25)
Opening Reception/Meet the Artists: September 6, 7:30 – 9 p.m.
Maryland is among the most diverse states in the U.S., with over 350,000 residents tracing their ancestral roots to Asian countries such as China, India, Iran, Japan, Korea, the Philippines, and more. A significant number of these residents are artists who practice and share their skills for personal and community growth and expression. In addition, our global culture has also enabled many Maryland artists of non-Asian origins to become inspired by and proficient in Asian arts and culture.
This exhibition brings together the work of artists in Maryland who are Asian, Asian American, and other artists whose work has been inspired by Asia to explore the rich connections among art, Asia, and Maryland. The works express, illustrate, and address a broad range of themes including assimilation, climate change, colonization, gender, identity, indigenous culture, Islam, memory, nature, racial othering, and representation. Among the 34 artists featured in the show are Shanthi Chandrasekar, Yoshi Fujii, Habib Hastaie, Yumi Hogan, Myungsook Ryu Kim, Isabel Manalo, Joyce J. Scott, Vidya Vijayasekharan, and others.
Admission is free.
Gallery hours: Monday – Saturday, 11 a.m. – 4 p.m.
The Asian Arts & Culture Center appreciates the generous support of the E. Rhodes & Leona B. Carpenter Foundation, Maryland State Arts Council, TU College of Fine Arts & Communication, Yoshinobu & Kathleen Shiota, Citizens of Baltimore County, Ro & Marius P. Johnson Legacy Charitable Fund, PNC Bank, Timothy & Lee Pierce, Capital Partners Securities, Co., Ltd., TU Marketing & Communications, Anthony & Bonnie Montcalmo, TU Department of Art+Design Art History Art Education, Robert Mintz & Beth Arman, Santiago Solis, and Towson Chamber of Commerce.
Event Contact
410-704-2807
Event Details
Repeats daily Monday and Tuesday and Wednesday and Thursday and Friday -- until Saturday December 8, 2018.
Free
Location
Add Event To Your Calendar