Lizzie Fitch / Ryan Trecartin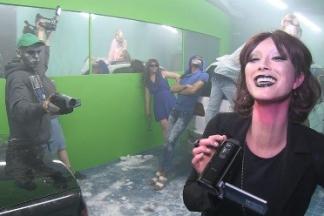 Artist collaborators, Lizzie Fitch (b. 1981, Bloomington, IN) and Ryan Trecartin (b. 1981, Webster, TX) create frenzied movies and sculptural theaters that immerse viewers in disorienting and fragmented narratives that simulate the short memory of social and entertainment media. Their exhibition at the BMA is comprised of three movies and two sculptural theaters. Mark Trade (2016) is a one-hour movie exhibited in a sculptural theater that resembles a bar. It follows the behind-the-scenes conflicts and confessions of a hard-drinking, eccentric protagonist and his production crew during a series of shoots that exhibit all the trappings of reality TV. The 21-minute movie Permission Streak (2016) is shown in a sculptural theater that combines aspects of gymnastics and aquatics facilities. The movie jumps jarringly between a string of unrelated vignettes, such as two actors in heavy makeup discuss the "happy feelings" that come with having one's picture taken and two figures dressed in camouflage performing a choreographed fight that gives way to a surreal dance and acrobatics routine. The 24-minute unscripted movie Junior War (2013) follows a group of teenagers gathered in the woods for a late-night party. The work is composed of night-vision footage shot by Trecartin as a high school senior in 2000. Captured before smartphones became ubiquitous, the young people in the movie treat the camera's presence as a novelty.
Event Contact
Sarah Pedroni
443-573-1872
Event Details
Repeats weekly Sunday and Wednesday and Thursday and Friday and Saturday -- until Sunday January 6, 2019.
Free Admission
Location
Add Event To Your Calendar