Life or Theatre? A New Play Presented by Annex Theater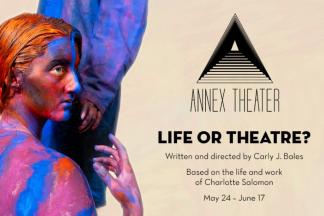 LIFE OR THEATRE?
Written and directed by Carly J. Bales
Based on the life and work of Charlotte Salomon
Presented by Annex Theater
May 24 – June 17
Thursdays – Saturdays, 8PM
219 Park Avenue, Baltimore

****
****
TICKETS
$25 Super Supporter
Support new, adventurous work and the artists who make it
$18 General Admission
HALF-OFF FRIDAY NIGHTS with code "FRIDAYNIGHTS" - June 8th and 15th
$7 Student / EBT Card Holders
Door Only

ABOUT THE PLAY
Life or Theatre? explodes the work and subconscious of the 20th century expressionist painter Charlotte Salomon on stage, fusing her autobiographical prose and expressionist painting with classical music, cinema, and theatre into a singular expression of her self – a demand by a young woman to exist in a world that demanded otherwise. [More info on the play...]

CAST
Caroline Preziosi
Surasree Das
Kerry Brady
Kathy Vary
Kevin Griffin Moreno
Jacob Zabawa
DESIGN TEAM
Film and Projections Designer | Rachel Dwiggins
Movement Director | Alayna Baron
Scenic Designer | Reese Siedlecki
Costume Designer | Susan Maccorkle
Lighting Designer | Evan Moritz
Music Director | James Young
Photographer | Zachary Z Handler

THE PLAY'S BACKGROUND
Between the years of 1941 and 1943, Charlotte Salomon, an enigmatic young German-Jewish artist painted a massive autobiographical tome of 1299 individual gouache paintings chronicling her life in Berlin and exile to Cote d'Azur, France. The expansive work transformed her and the individuals in her life into characters in a melodrama, revealing a dark family inheritance of suicide and mental illness; secret obsessive loves; troubling personal relationships; and Salomon's tumultuous struggle with fate to define her own destiny against the backdrop of Weimar and Nazi-era Berlin. In isolation, Salomon then edited the pieces down to 796 paintings with 340 vellum overlays of text and musical cues to create a unique visual work she called Leben? oder Theater?: Ein Singspiel (Life? or Theater?: A Song-play) "This is my whole life," she said giving the work to a family friend only months before her deportation and murder at Auschwitz.
This uncategorizable, ferocious body of work survives today and dark, unresolvable questions about Charlotte's life remain. Was she embroiled in a secret affair with a family friend? Did she murder her abusive grandfather? How believable is her story? When does the line between truth and fiction become irrelevant? While Salomon's work parallels that of the famed Anne Frank, and the scope of her work is the largest singular body of work by a Jew during the Holocaust, her legacy remains relatively unknown to larger audiences. However, "the themes of her work are compelling, pressing, and ever-relevant nearly a century later – a woman tackling and defining her identity on her own terms, battling her supposed social inheritance and fate, and confronting what it means to create in a destructive world," says writer/director Carly J. Bales.

ABOUT ANNEX THEATER
Since 2008, the Annex Theater has produced over 50 plays, embarked on three national tours, held community workshops for performance and devising, and become the leader and go-to for experimental theater and interdisciplinary performance in Baltimore. Most importantly, the Annex has helped to create a thriving experimental performance culture in the city that extends beyond the traditional theatre space, constantly embarking into unknown creative territory where risk is everything and the strange is cherished.
Annex Theater is Baltimore's Best Theater (Baltimore Magazine, 2016) and their "big, bold, and unendingly impressive" productions have received such accolades as: Best Company (2016, Baltimore City Paper), Top 5 Plays of the Year (2015, Baltimore Sun), Best Play (2014/2016, Baltimore City Paper), Top 10 Plays of the Year (Multiple Years, Baltimore City Paper), Best Use of Music (2014, Baltimore City Paper), Best Trend – DIY Theater (2009, Baltimore City Paper), Best Director (2010, Baltimore City Paper), Best Short Play (2015, Baltimore City Paper), among others!
2018 SEASON AT ANNEX
Dark World's Destruction 2*
Written by Derek Carr
Directed by Evan Moritz
MARCH 15 – APRIL 8
Life or Theatre?*
Written and Directed by Carly J. Bales
Based on the life and work of Charlotte Salomon
MAY 24 – JUNE 17
Pieces and Pages*
Directed by Roz Cauthen
A raw, intimate solo performance work
JULY 2018
Afropunk Ballet*
Story by Eric T. Styles, Preston Andrew Patterson & Scott Patterson
Composer & Librettist Scott Patterson
Choreographer Preston Andrew Patterson
A Co-Production with Afro House
OCTOBER 2018 at Le Mondo (lemondo.org)
*World Premiere
Event Contact
Event Details
Repeats weekly Sunday and Thursday and Friday and Saturday -- until Sunday June 17, 2018.
Prices: – Array
1
Redemption Instructions
Half-Priced Tickets on Fridays, June 8th & 15th! Just enter "fridaynights" as your promo code during checkout.
Location
Add Event To Your Calendar
What Others Are Saying
You would be a fool to miss this! This is the most engaging, provocative piece of performance art I have seen in some time. Stunning and achingly beautiful, timely, relevant, poignant and poetic- this production will haunt your soul for days. -Baltimore Independent Theater Review
A daring, experimental work of visual and aural bravado that seeks to deliver a visceral sense of the power and pathos of Salomon. -Baltimore Jewish Times