Mount Vernon Cultural Walk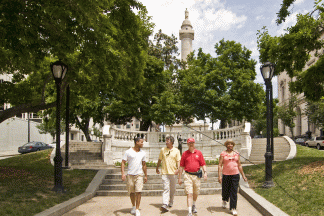 MOUNT VERNON CULTURAL WALK
Held in partnership with the Mount Vernon Place Conservancy, Cultural Walk explores the fine architecture and world-renowned institutions along the Charles Street National Scenic Byway. Impressive buildings and monuments line the corridor, from Benjamin Latrobe's Basilica to the sophisticated minimalism of Mies van der Rohe's One Charles Center. The nation's first monument to George Washington stands tall in the center of Mount Vernon Place, just steps away from some of the nation's foremost cultural institutions, including the Walters Art Museum, Enoch Pratt Free Library, and the Peabody Institute. The tour concludes at Baltimore's Washington Monument, with a free self-guided tour inside the monument's base. The tour price does not include admission costs for the climb to the top of the monument; advanced reservations for the climb can be made on the Mount Vernon Place Conservancy's website.
Tours depart from the Inner Harbor Visitor Center at 401 Light Street.
Mount Vernon Cultural Walk Tour Schedule
First Sunday of the month (May through November): 10:30 am
Event Contact
Shauntee Daniels
410-878-6411
Event Details
Repeats monthly on July, August, September, October, November on the first Sunday -- until Sunday November 4, 2018.
410-878-6411
Location
Add Event To Your Calendar
What Others Are Saying
I went on a tour with Andy Stritch today and just wanted to give a quick review. He knew a lot about the area as well as the history. Thoroughly enjoyed my tour with him. He was very accommodating and asked if we would like breaks in between as well. Two thumbs up and would recommend him. The tour was also very informative and I think the places the tour chose to highlight were great.
My group of 7 from out of town were thoroughly entertained and informed today by Doris on our walk around Mt. Vernon with the 10 am tour.
I am a Baltimorean, and know a fair amount of city history. She was always correct, and she taught me about Washington and the Society of Cincinnati and about Francis Scott Key's site of death. I recommend Doris highly.