LESLIE SCHWING: Serious Weather: Views from the Middle World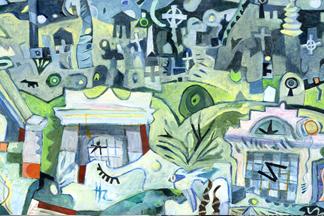 On view: June 29 – July 21
Reception: Fri, June 29 | 6 – 8pm | FREE
Paper Cutting Workshop: Sat, July 14 | noon – 4pm | $40, $35 members
Unraveling mythic events in ordinary places, Leslie Schwing's mixed media paintings are animated with figures, glyphs, and elements both personal and universal.
Leslie Schwing is a Baltimore-based artist headquartered in the Fletcher/Schwing Studio, and a longtime member of Gallery 1448 and Creative Alliance. Schwing has studied at Carnegie Mellon University, The George Washington University where she earned her BA with Distinction, and the Maryland Institute College of Art. She has exhibited nationally since the mid-1970s, and has been featured in publications such as Ideas and Their Expression: A Search for Identity, and Dreaming for DUMMIES by Penney Pierce (IDG Books, 2000).
Event Contact
Creative Alliance
410-276-1651
Event Details
Repeats daily -- until Saturday July 21, 2018.
410-276-1651
Free Admission
Location
Add Event To Your Calendar