Walking Tours - Provide by the Baltimore National Heritage Area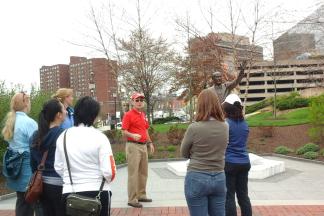 Put your best foot forward and explore the best of Baltimore! Join the Heritage Area's Urban Rangers on a memorable walk through history featuring historic attractions, unique neighborhoods, and colorful stories that make Baltimore charming and unique. From the Inner Harbor to Fell's Point - we've got Baltimore covered!
Event Contact
Shauntee Daniels
410-878-6411
Event Details
Repeats weekly Sunday and Monday and Tuesday and Wednesday and Thursday and Friday and Saturday -- until Sunday November 4, 2018.
410-878-6411
Location
Add Event To Your Calendar
What Others Are Saying
...I will recommend this tour to everyone traveling to Baltimore. We toured many sites while visiting and this tour really tied together the Baltimore experience!! Thanks so much. It was the highlight of our trip.
My wife and I just enjoyed a wonderful walking tour ... We hope that funding will continue to be allocated to make this opportunity available as it is the primary reason that brought us to Baltimore.