Columbia Pro Cantare: Music of World War I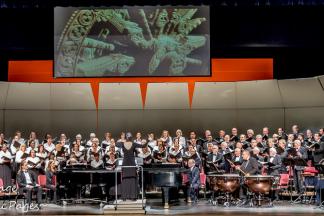 The Columbia Pro Cantare chorus will commemorate the centennial of the end of World War I with a concert, "Over There: Music of 'The Great War'," Saturday, May 5, 2018, 8 pm. The chorus, soloists, and The Lexington Brass Quintet will perform both classical works and popular songs of the period highlighting different perspectives on the war. The chorus and the Columbia Pro Cantare Chamber Singers will be under the direction of Frances Motyca Dawson. Joining CPC for this concert will be baritone Rob McGinness, soprano Kayla Currie, and pianists Erik Apland and Sammy Marshall.
Works on the program include two medleys of popular songs of the period, "A Soldier's Life" and "For the Roses" featuring CPC and the Lexington Brass; Edward Elgar's "For the Fallen," sung by the chorus and soloist Kayla Currie; three songs from "Songs from a Shropshire Lad," performed by McGinness and accompanied by Sammy Marshall; and a medley of George M. Cohan hits performed by The Lexington Brass. The CPC Chamber Singers will perform an a capella piece, "Rest," by Ralph Vaughn Williams. A pre-concert lecture by Peabody professor Ernest Liotti will provide insight into the works to be performed.
Tickets are $23 and $20 (students and senior citizens) in advance; $2 more at the door. Children 5-15: $10. $16 for military veterans.
To order tickets visit the CPC website, www.procantare.org, or call 410.799.9321 or 301.854.0107.
Event Contact
Elladean Brigham
410.730.8549
Event Details
Saturday, May 5, 2018, 8:00 PM – 10:00 PM
Prices: – Array
410.799.9321, 301.854.0107
1
Redemption Instructions
Must bring a photocopy of printout to pick up half-priced tickets at the door.
Location
Add Event To Your Calendar