Second Annual Baltimore Piano Marathon Concert- Spire Series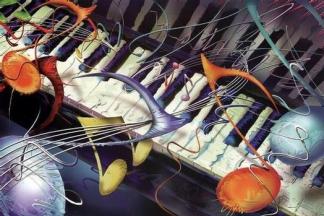 The Second Annual Baltimore Piano Marathon Concert
Sunday, May 6, 2018, 2 p.m. – 6 p.m.
Between 2:00 p.m. and 6:00 p.m., eight extraordinary pianists from the Greater Baltimore area will perform – with a new artist taking the stage every 30 minutes throughout the afternoon. Come for as many as you would like – or join us for the entire performance! The glorious Steinway B in the sanctuary will be the featured instrument. Kati Harrison and Mark Malinowski of classical radio station WBJC, will served as the live, co-emcees for this event. Usually $20, this event HALF PRICE: minimum $10 per person; donations over and above will be gratefully received.

The Artists and Programs:
2:00 PM: Lura Johnson
Steinway Artist; Principal Pianist of Delaware Symphony and Baltimore Symphony Orchestras.
J.S.Bach
Selected Preludes & Fueges, Book 1
2:30 PM: Chad Bowles
Chair of the Piano Department at Peabody Prep.; Co-Director of the Peabody Piano Academy.
Marcello/Wild: Adagio
Gounod/Liszt: Rêverie sur un motif de l'opéra Romeo et Juliette
Verdi/Liszt: Paraphrase de concert sur Ernani
3:00 PM: Seth Schultheis
Senior, Baltimore School for the Arts; Scholarship Recipient; Manhattan School of Music Precollage Division.
Rachmaninoff: Etudes-Tableaux, Op. 39
No. 5 in E-flat minor
No. 8 in D minor
No. 9 in D Major
Brahms: Variations on a Theme by Paganini, Op. 35: Book I
3:30 PM: Ronaldo Rolim and Xiaohui Yang
Two internationally-acclaimed artists; Brazilian pianist Ronaldo Rolim and Chinese pianist Xiaohui Yang join forces in repertoire for four hands.
Two French Suites for Four Hands
Fauré: Dolly
Ravel: Ma mère l'oye
4:00 PM: Jennifer Nicole Campbell
Performer and composer; 1st prize winner 1000 Islands International Chopin Piano Competition; Presser Scholar and Peabody Alumni Award; pupil of Brian Ganz.
Gershwin: Rhapsody in Blue
(solo piano arrangement by Gershwin)
Debussy: La Cathédrale engloutie, from Preludes
Campbell: Variations on Amazing Grace (2017)
4:30 PM: Michael Sheppard
Baltimore based concert artist of international acclaim; Faculty, Peabody Conservatory and Baltimore School for the Arts.
Rachmaninoff: Corelli variations
5:00 PM: Matthew Palumbo
First prize, Chopin Foundation of the U.S. International Competition; Faculty, International School of Music, Bethesda, Maryland; Peabody Conservatory Alumnus.
Beethoven
Sonata in C Major, Op. 53 "Waldstein."
5:30 PM: Shaun Tirrell
International concert pianist; Peabody Conservatory Alumnus; Owner of PianoCraft, Gaithersburg, Maryland.
Liszt:
Funérailles (Harmonies poétiques No. 7)
Vallée d'Obermann (Première année: Suisse)
Event Contact
Beth Seeley
410-728-5545
Event Details
Sunday, May 6, 2018, 2:00 PM – 6:00 PM
410-728-5545
1
Offer good
05/01/18

to

05/06/18
Redemption Instructions
Tickets available at the door.
Location
Add Event To Your Calendar