Redevelopment and Justice in Baltimore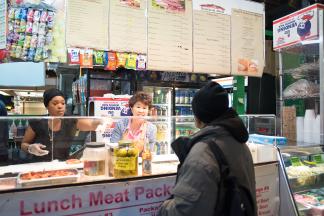 UMBC Humanities Forum — Focus on Gentrification in Baltimore
Panel Discussion: "Redevelopment and Justice in Baltimore"
Wednesday, April 18, 4 p.m.
Albin O. Kuhn Library Gallery
Gentrification has long been a watchword for neighborhoods facing redevelopment and the many social and economic changes it brings. How can Baltimore neighborhoods renew themselves without forcing out local residents or homogenizing diverse populations? This expert panel will focus on key questions linking gentrification and social justice, from why black neighborhoods and immigrants matter to the role of arts and entertainment districts in the process of redevelopment. Attention will be paid to the Vital Signs 15 report, issued by the Baltimore Neighborhood Indicators Alliance, which provides data on quality of life in Baltimore communities.
Panelists include:
Lawrence Brown, associate professor, School of Community Health and Policy, Morgan State University
Felipe Filomeno, assistant professor of political science, UMBC
Seema D. Iyer, associate director and research assistant professor, Baltimore Neighborhood Indicators Alliance – Jacob France Institute, University of Baltimore Merrick School of Business
Nicole King, associate professor and chair, American studies, UMBC
Admission is free.
Plan your visit
UMBC is located about 10 minutes south of the Inner Harbor along I-95. For this event, metered visitor parking will be available in the Walker Avenue Garage — please click here for directions and parking information.
Sponsored by UMBC's Dresher Center for the Humanities; the Department of American Studies; the Department of Political Science; and Critical Social Justice, The Women's Center.
Event Contact
Courtney Hobson
410-455-6798
Event Details
Wednesday, April 18, 2018, 4:00 PM – 6:00 PM
Free Admission
Location
Add Event To Your Calendar