Interplay: Elizabeth Sarian and Nathan Cicero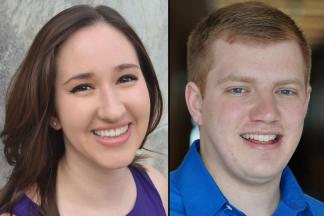 Interplay: Elizabeth Sarian and Nathan Cicero
Thursday, February 8, 7:30 p.m.
Earl and Darielle Linehan Concert Hall
InterPlay, a joint venture of UMBC and the Peabody Institute, began in 2016 as a way to connect UMBC undergraduate music majors with Peabody graduate students for their mutual benefit. Since that time, the partnership has evolved to include an innovative, interactive performance in Earl and Darielle Linehan Concert Hall, and a four-session teaching project, which to date have included master classes, chamber music coaching, audition preparation seminars and mock audition panels.
For this performance, mezzo-soprano Elizabeth Sarian and cellist Nathan Cicero present a program entitled A Wandering Soul, featuring:
Sechs Lieder, Op. 48 by Edvard Grieg (1843–1907)
Trois Mélodies by Olivier Messiaen (1908–1992)
"Island" and "Litany" from Shadow of the Blues by John Musto (b. 1954)
Ich bin der Welt abhanden gekommen by Gustav Mahler (1860–1911)
"How can I keep from singing?" arranged by Nathan Cicero (b. 1993)
"I'll Build a Stairway to Paradise" and "I Got Rhythm" by George Gershwin (1898–1937)
Plan your visit
UMBC is located about 10 minutes south of the Inner Harbor along I-95. For this event, free visitor parking is available in Lot 8, directly adjacent to the Performing Arts and Humanities Building, where Linehan Concert Hall is located — please see here for additional information.
Event Contact
Willie Santiago
410-455-2943
Event Details
Thursday, February 8, 2018, 7:30 PM – 9:30 PM
Free
Location
Add Event To Your Calendar