Elvis' Birthday Fight Club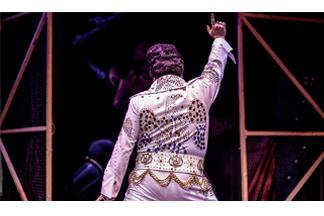 "Elvis" and Kittie Glitter take care of business as hosts of this hilarious underground fight club. In seven elaborately staged rounds, this action-packed, punch-drunk evening offers flim-flam fisticuffs, cartoon-like violence, below-the-belt comedy, and hot tah-tahs. Burlesque talents Nona Narcisse, Maria Bella, and Candy del Rio will help keep the audience "all shook up" between fights! Don't miss this sexy, subversive, satirical, and nonsensical tradition that celebrates The King's birthday month!
The 2018 fight roster is top-secret, but past match-ups have included "Freddie Mercury" vs "The Queen of England", "Pringles" vs "Sally the Utz Girl,""Congress" vs. a Clown, and "Putin" vs. a Unicorn.
FRI JAN 12 & SAT JAN 13 | 8PM | $25, $22 members (+$3 at the door)
Event Contact
Creative Alliance
410-276-1651
Event Details
Friday, January 12, 2018, 8:00 PM – 10:00 PM
Saturday, January 13, 2018, 8:00 PM – 10:00 PM
Prices: – Array
410-276-1651
Location
Add Event To Your Calendar