Simone Dinnerstein, piano with Telegraph Quartet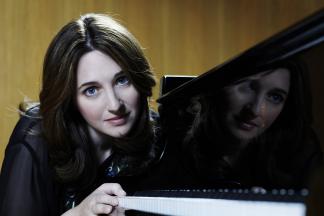 American pianist Simone Dinnerstein is a searching and inventive artist who is motivated by a desire to find the musical core of every work she approaches.
"She compels the listener to follow her in a journey of discovery filled with unscheduled detours . . . She's actively listening to every note she plays, and the result is a wonderfully expressive interpretation." - NPR
Dinnerstein will perform with the Telegraph Quartet on Sunday, November 12 at 3 pm at Linehan Concert Hall at UMBC.
The program will include: Webern: Rondo + Dvořák: Selections from Cypresses for String Quartet, B.152 + Schubert: Four Impromtus, Op.90 + Brahms: Piano Quintet in F minor, Op.34
Pianist Simone Dinnerstein plays Mozart's Piano Sonata No. 11 Live at WQXR
Event Contact
4109972324
Event Details
Sunday, November 12, 2017, 3:00 PM – 5:00 PM
Prices: – Array
4109972324
1
Location
Add Event To Your Calendar