Stefan Jackiw, violin; with Anna Polonsky, piano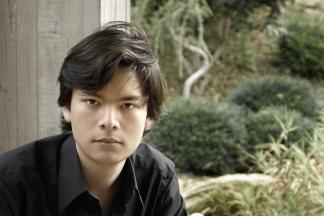 Violinist Stefan Jackiw is recognized as one of his generation's most significant artists, captivating audiences with playing that combines poetry and purity with an impeccable technique.
He will perform at 3 p.m. Sunday, October 8, in the Horowitz Center's Smith Theatre with pianist Anna Polonsky who is also widely in demand as a soloist and chamber musician.
Their program will include:Clara Schumann's Three Romances for Violin and Piano, Op. 22; two Brahms Sonatas - No. 1 in G Major and No. 3 in D minor; and David Fulmer's They Turn Their Channeled Faces to the Sky.
Hailed for playing of "uncommon musical substance" that is "striking for its intelligence and sensitivity" (Boston Globe), Jackiw has appeared as soloist with the Boston, Chicago, Cleveland, New York, Philadelphia, and San Francisco symphony orchestras, among others.
A FREE Public Open Rehearsal will be held on Sunday, October 8 at 1:30. Arrive early to hear Jackiw and Polonsky prepare for the performance.
Stefan Jackiw plays Beethoven Romance in F.
Event Contact
4109972324
Event Details
Sunday, October 8, 2017, 3:00 PM – 5:00 PM
Prices: – Array
4109972324
1
Location
Add Event To Your Calendar