Birdland and the Anthropocene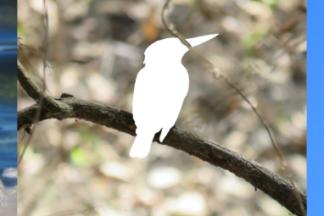 Opening Reception: Oct. 6, 6-10 p.m.
Closing Costume Party: Oct. 28, 7 p.m. until late
Saturday 14 October, noon: Lindsay Jacks, Director of Lights Out Baltimore
Saturday Artist's Talks at 2pm
Oct. 7: Benjamin Andrew, Christina Baal, Chris Siron
Oct. 14: Lynne Parks, Jieyu Zhang
Oct. 21: Cathy Cook, Nicole Shiflet, Elisabeth Pellathy, Ben Piwowar
Sunday programs at noon
Oct. 8: Open mic referencing birds. Guest writers Jenny O'Grady and Timmy Reed and Linda Franklin
Oct. 15: Dariusz Skoraczwski, Baltimore Symphony Orchestra's Principal Cellist, bird song-influenced selections
Oct. 22: Ian Nagoski, Music Researcher, Early 20th Century Bird Recordings and Bird-Imitations
This exhibition is generously supported by a BGE Green Grant.
You can help too by making a donation to the exhibition. Please specify that your donation is for Birdland. Your donation will support artists' stipends and defray exhibition costs. Benefits to supporters include limited edition prints, guided bird walks in Baltimore, and more!
In this group show at The Peale and related programs in Baltimore's schools and communities, curator and Baker Prize-winning artist, Lynne Parks, invites us to consider how our city's architecture and the built environment impact the natural ecosystems in the Anthropocene, the new geological era in which human activity has dramatically altered the Earth through climate change and other influences.
Some of the artists in the show examine ornithology, the scientific study of birds—some play with the methods involved. How do we use the technological advances we've made at a cost to the natural world in order to save it? How do we imitate birds and what does it reveal about our perception of them? How does extinction disclose domination and exploitation in political systems? How are birds as symbols used in these narratives?
Parks and the other artists in this exhibition consider endangered species, extinction, and the postnatural—organisms that have been intentionally and hereditarily altered by humans. Included are real, predicted, and imagined extinction and post-extinction narratives. The exhibition's "solution center" offers creative ways to mitigate humans' impact on the natural environment. Parks has also partnered with Patterson Park Audubon and Lights Out Baltimore to develop programs in the community for this exhibition.
Parks asks the community to weigh in on these issues. In workshops, Baltimore City students will respond with their own art. Sightings and stories of the natural world in Baltimore will be collected from city residents with the "Be Here Stories" app. What do birds mean to you?
This is a timely exhibition about the Anthropocene, the new geologic era in which human influence is shaping earth's systems including climate and the environment. This exhibit is mostly bird-oriented and we address extinction, endangered species, and the postnatural. We have visual and sound artists, performers, and more. We'll be collecting bird stories, giving workshops, and programming with local conservation groups. I love the communities brought together here. We need your support; please give to our Indiegogo campaign: https://www.indiegogo.com/projects/birdland-and-the-anthropocene-art#/
Event Contact
Lynne Parks
443-416-6180
Event Details
Repeats weekly Thursday and Friday -- until Sunday October 29, 2017.
Repeats weekly Saturday -- until Sunday October 29, 2017.
Repeats weekly Sunday -- until Sunday October 29, 2017.
301-642-6257
Free Admission
Location
Add Event To Your Calendar