GBCA 15th Anniversary Celebration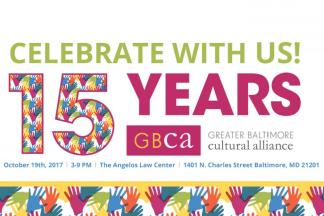 In 2017, GBCA celebrates 15 years of working to nurture and advocate for the many faces and voices of arts and culture in Baltimore City and the five surrounding counties. To mark this milestone, we invite you to save the date of October 19, 2017 for two events that celebrate our history, our present, and our future.

3:00 – 6:00 p.m.
Interrupt Injustice: Bringing Balance to the Cultural Workplace
Equity and Inclusion have become catch phrases that get lost in everyday language, especially in the workplace. What happens beyond the dialogue - in the space where real equity exists and changes lives? Noted speaker and producer Donna Walker-Kuhne, one of the nation's foremost experts in creating a more diverse and inclusive audience, will guide this deep dive into strategies and tools. Every participant will develop a purposeful call to action for their own workplace.

6:00 – 9:00 p.m.
Fete Accompli: A Celebration of Baltimore Arts and Culture
Artists, arts lovers, patrons, and members of our cultural community are invited to join us for a festive blow-out featuring great local talent, free food and drink, and fun for all.
Event Contact
Nick Horan
410-230-0200
Event Details
Thursday, October 19, 2017, 3:00 PM – 9:00 PM
Free Admission
Location
Add Event To Your Calendar