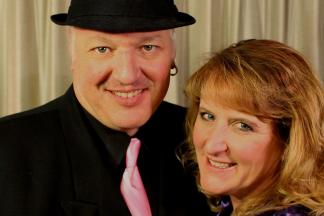 Together, John and Kristy Cocuzzi bring decades of youthful enthusiasm and experience to any performance. Both are known for successful workshops with students, building knowledge of the jazz idiom and inspiration to the next generation. Since they joined forces in 2013, they have been all over the United States and beyond, appearing at festivals, house parties, concerts, and cruises together. They are entertaining to watch, a pleasure to hear, and they put a new spin on many of the old familiar melodies we all love. Between John's incredible ability to make the piano sing, and Kristy's beautiful lyrical interpretations and quality of tone, the Cocuzzis make your evening entirely satisfying!
John plays with passion and intensity on stride piano, vibes, and drums. For more than 35 years, John has been entertaining crowds internationally, performing alongside jazz and blues greats. With dynamic style and diverse rhythms, John's innovation breathes new life into familiar tunes, from swingin' and burnin' jazz and blues to lush and sultry ballads. An intuitive performer, John possesses that musical fire, igniting the crowd with skillful improvisation. In addition to being a fine pianist, John has earned an international reputation as a premier swing vibraphonist. His music is unparalleled.
Kristy Reed Cocuzzi has a sultry voice that has thrilled audiences is live performance, on TV and in film. She has toured as lead alto, clarinet, & vocalist throughout the United States and Canada, performing with (among others) the Temptations, Franki Valli, the Russ Morgan Orchestra, the Jimmy Dorsey Orchestra, the Cab Callaway Orchestra, the Drifters, and has appeared alongside great musicians including Bob Havens, Arthur Duncan, Sandor Benko, Jack Imel, Kenny Davern, Anacani, Bobby Gordon, Johnny Varro, and many more. She has worked the casino circuits in Reno, Carson City, Laughlin, and Las Vegas, and continues to keep a presence on the national jazz festival and jazz party circuit. Kristy takes clarinet to a whole new emotional level, especially in the low register, with a warmth and feel that is both soothing and energizing. You'll get Benny Goodman, Peggy Lee, and Bernadette Peters all rolled into one small package!
Event Contact
Cyd Wolf
410-752-4515
Event Details
Thursday, November 16, 2017, 6:00 PM – 9:00 PM
Prices: – Array
1
Location
Add Event To Your Calendar