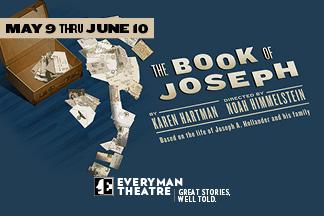 by Karen Hartman | Directed by Noah Himmelstein
Based upon the life of Joseph A. Hollander
Like so many great mysteries, it all began in an attic with a dusty old suitcase... The discovery of a stash of letters stamped with Swastikas opens clues to an untold family history spanning multiple generations in The Book of Joseph—the gripping true story of resilience and truth-tracking determination spanning Baltimore and beyond. Richard Hollander's book, Every Day Lasts a Year: A Jewish Family's Correspondence from Poland, is brought to the stage in this mesmerizing new adaptation that restores a family's uncharted legacy—celebrated by revelation and remembrance.
Featuring Resident Company members Megan Anderson, Danny Gavigan, Beth Hylton, Bruce Randolph Nelson and Wil Love.
Events:
TNT (Theatre Night for Teens) 5/8/18 at 6pm
Taste of Everyman: "Battle of the Female Bartenders" 5/17/18 at 6pm
World of the Play Panel Discussion 5/31/18 at 5pm
Cast Conversations 6/2/18 -post-show
Event Contact
Michele Alexander
443.615.7060
Event Details
Wednesday, May 23, 2018, 7:30 PM – 10:00 PM
Repeats weekly Wednesday and Thursday -- until Thursday June 7, 2018.
Friday, May 25, 2018, 8:00 PM – 10:30 PM
Repeats weekly Friday and Saturday -- until Saturday June 9, 2018.
Saturday, May 26, 2018, 2:00 PM – 4:30 PM
Repeats weekly Sunday and Saturday -- until Sunday June 10, 2018.
Sunday, May 27, 2018, 7:00 PM – 9:30 PM
Repeats weekly Sunday -- until Sunday June 10, 2018.
Wednesday, June 6, 2018, 1:00 PM – 3:30 PM
Tuesday, May 22, 2018, 7:30 PM – 10:00 PM
Prices: – Array
410.752.2208
Location
Add Event To Your Calendar
What Others Are Saying
"You might lose count of how many times a chill runs down your spine." - TimeOut