Visions of the Circus: An Art Exhibition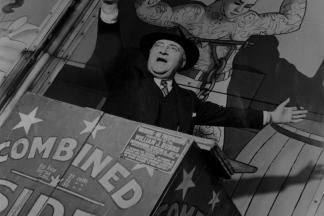 McDaniel hosts the premiere of a major exhibition highlighting the cultural and historical significance of the circus. Rice Gallery hours are Monday through Friday, 10 a.m.–4 p.m., and Saturday, noon–5 p.m.
"Visions of the Circus" examines such themes as the mesmerized public; the rise of the big top; life behind-the-scenes; aerial, animal, clown and one-of-a-kind acts; and sideshow performers; as well as how the circus is depicted in art. Vintage black-and-white photographs, color posters, original sideshow banners, circus performer costumes and sideshow collectibles are on display in addition to illustrations by American sculptor Alexander Calder.
The exhibition is curated by Robert Lemieux, associate professor of communication and cinema at McDaniel, and designed by graduate students at the Corcoran School of the Arts and Design at George Washington University in Washington, D.C., with professional assistance from the National Gallery of Art. Materials are on loan from The Ringling, Whitney Museum of American Art, Circus World and Illinois State University.
"Visions of the Circus" is made possible with support from Donald and Patricia Lavin, the Carroll County Arts Council and the Department of Communication and Cinema at McDaniel College.
Reception: Thursday, Aug. 31, 5:30–7:30 p.m., with a gallery talk at 6 p.m. Special event: "American Sideshow" author Marc Hartzman speaks on "The Allure of the Circus Sideshow: A Brief History" on Monday, Oct. 2, 7 p.m., in McDaniel Lounge.
Event Contact
McDaniel Communications and Marketing
410-857-2595
Event Details
Repeats daily -- until Thursday October 12, 2017 -- except Sunday August 27, 2017, Sunday September 3, 2017, Sunday September 10, 2017, Sunday September 17, 2017, Sunday September 24, 2017, Sunday October 1, 2017, Sunday October 8, 2017.
Free Admission
Location
Add Event To Your Calendar