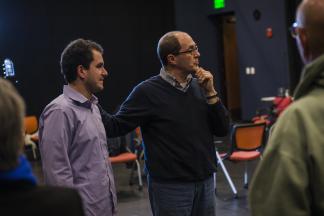 This introductory course on character development will teach actors how to create clear and dynamic characters through understanding the importance and complexity of character motivation, playing strong objectives, and script analysis. Actors will work with a variety of texts and exercises to apply learned techniques.

Class fills up fast, so sign up early to secure your spot. Registration closes on October 10th.

Teacher: Bruce R. Nelson
Level: Beginners
Age Group: 18+
Dates: Mondays, October 20th-November 10th
Time: 6:30pm-9:30pm
Cost: $225
Register by: October 10th
Event Contact
Abby Grimsley
443-615-7055 x7142
Event Details
Repeats weekly Monday -- until Monday November 10, 2014.
443-615-7055 x7142
Location
Add Event To Your Calendar
What Others Are Saying
"I think this course is perfect for a beginning/aspiring actor, and I feel like I've tripled my confidence in the last 4 weeks."
"I looked forward to the class every week. The fellow students were supportive and Bruce is a positive, humorous teacher. Loved it."
"Bruce has a way of making everyone in the class feel safe. I felt safe failing at something and confident that everyone would help me improve."