Reverend Albert Lee Wagner: Miracle At Midnight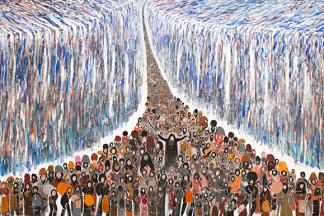 AVAM's newest one-man show, "Reverend Albert Lee Wagner: Miracle At Midnight," is in celebration of one of America's most prominent visionary artists. Curated from 50+ Wagner masterpieces recently gifted to the museum by Gene and Linda Kangas, this show will also include two of Reverend Wagner's largest works, donated to AVAM's permanent collection ten years ago by Pat Handal.
Museum founder and director, Rebecca Alban Hoffberger, is the curator of "Miracle at Midnight" - a show title commemorating the transformative moment when house paint spilled on a floor board forever changed an actively sinning Wagner as he prepared for his own 50th birthday. Transfixed by the scene of pooling paint, Wagner experienced a spiritual epiphany, forever ending his womanizing and kicking off an intense period of religious service and art making that would endure until his peaceful death at the age of 82.
Event Contact
410-244-1900
Event Details
Sunday, July 23, 2017, 10:00 AM – Thursday, March 22, 2018, 7:00 PM
Repeats daily -- until Wednesday February 28, 2018.
Prices: – Array
Location
Add Event To Your Calendar