Photo Flesh | International Group Exhibition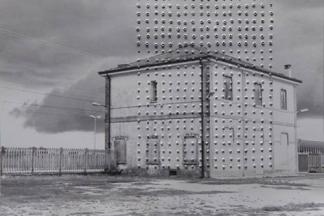 Terrault is excited to announce 'Photo Flesh', a group exhibition featuring international artists, Alberto Condotta (1987, Italy), Jodie Wingham (1991, UK), and Andrea Jaeger (1978, Germany).
Please join us on Saturday, May 13th, 2017 from 7-10pm for the opening reception of 'Photo Flesh'.
Exhibition runs May 13-June 3, Open hours Saturdays 1:00 - 5:00 PM
Photo Flesh is a collective exhibition exploring the sensuous quality of photography through the logics of other artforms (and vice versa).
Photo Flesh presents paintings and installations exploring the photographic, in which photography takes the role of the protagonist to seduce its audience, not for what it represents, but for its own sensual quality. Far from indexing frozen time, here photography makes its voice heard only to state its presence, which is both hard and fragile at the same time.
In Jodie Wingham's work, photography is inseparably coupled with minimalistic metal sculpture, producing sensuous paradoxes.
Painting and photography coexist in Alberto Condotta's work. On the one hand it may be considered 'photography', as it is made exclusively of it. On the other hand it is also 'painting', as post-production aspires to maximum visibility.
In her transmedial practice, Andrea Jaeger does not take photography as a given discipline but as something to repeatedly reinvent. In her latest work, she materialises photographs as 2D light flimsy surfaces that, nevertheless, work environmentally.
At the crossroad between modernism (geometric shapes) and postmodernism (transmediality), the artworks in Photo Flesh share a similar aesthetic and a similar reduced palette. Whether wall-hung, on wall-mounted screens, on plinths, hung from the ceiling, leaned against walls, the artworks will set a fleshy dialogue with Terrault Gallery's gallery space.
http://www.albertocondotta.com/
http://jaegerimages.com/
http://www.jodiewingham.com/
www.terraultcontemporary.com
Event Contact
Carlyn Thomas
443-540-1234
Event Details
Saturday, May 13, 2017, 7:00 PM – 10:00 PM
Repeats weekly Saturday -- until Saturday June 3, 2017.
Free Admission
Location
Add Event To Your Calendar