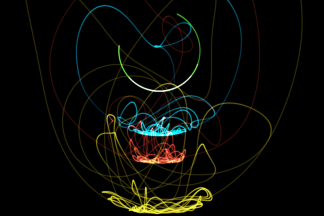 Godly Chaos Performed by QuaQuaQua
Conceived, Directed, and Designed by Adam Rosenblatt
April 20 & 21
What exists between pure chaos and complete predictability? Where do we -as animals, as people, as societies- fall within this spectrum of order and disorder? Are we really in control of our actions? Is Free Will an illusion? Do the laws that dictate gargantuan cosmic forces and minuscule atomic attractions also apply to our personal relationships, our intellectual opinions, our reptilian urges? Try to find some answers with QuaQuaQua.
Music by Steve Reich, John Cage, Mark Applebaum, Thierry de Mey, Alexander Schubert, and François Sarhan.
QuaQuaQua (Baltimore/New York) revels in the grey area between contemporary music and absurdist theater. A trio made up of classically-trained percussionists, QuaQuaQua set out in 2015 to devote their well-honed skills to find and continually stumble back and forth over the fuzzy boundary separating these two performance disciplines. Part gesture, part performance art, part electroacoustic music, but all amusing.
QuaQuaQua is Terry Sweeney (Sandbox Percussion), Adam Rosenblatt (Ictus Ensemble), and Tatevik Khoja-Eynatyan
**This project is supported in part by a Rubys Artist Project Grant. The Rubys Artist Project Grants were conceived and initiated with start-up funding from the Robert W. Deutsch Foundation and are a program of the Greater Baltimore Cultural Alliance.
Godly Chaos
April 20 & 21 @ 8pm
Tickets:
General Admission - $15
Students - $10
Event Contact
Event Details
Thursday, April 20, 2017, 8:00 PM – 9:00 PM
Friday, April 21, 2017, 8:00 PM – 9:00 PM
Add Event To Your Calendar