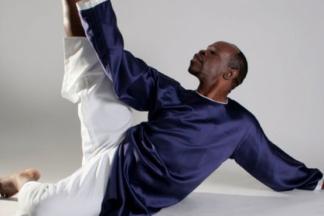 Saturday dance classes return to the Patterson! Reggie Cole's Cultural Dance Cardio Workout is a fun, vigorous dance workout that adds the flavor of African and Caribbean dance movement combined with the energy and rhythm of motivating music mixes to get your body moving non-stop! You'll have so much fun dancing you'll forget that you are working out.
Saturdays starting Jan 21- Mar 25 (No class Feb 18 & Mar 18) | 12:15-1:15pm | $15, $12 mbrs.
BIOGRAPHY
Reggie Cole has over 14 years of professional dance and teaching experience. He teaches youth and adult classes in creative movement, liturgical, modern, jazz, street jam and beginning ballet. Through organizations such as the Art and Humanties Council of Montgomery County, D.A.R.E., the DREAM Program and other outreach projects, he has taught dance and curriculum-based movement classes to children across the Washington, DC metroplex. In addition he has taught workshops and classes in fitness facilities, dance studios, churches, and community centers across the Baltimore/Washington DC metropolitan area including Dance Collective (Baltimore), Marcellus Dance Studio (Forestville, MD), Divine Dance Institute (Capital Heights, MD), Dance Place (DC), Joy of Motion (DC), American Dance Institute (Rockville, MD), Maryland Youth Ballet (Maryland), Montgomery College (Rockville Campus) and Morton Street Dance Studio (Baltimore, MD), to name a few. He is currently on faculty with the Children's Dance Division of Towson University and continues to be in demand as a guest teacher.
As a professional dancer he is trained in ballet, modern, jazz and West African dance technique. He has danced with, collaborated, choreographed and performed for local dance troupes and worked with many choreographers: CityDance Ensemble, Dimensions Dance Company, Edgeworks Dance Theater, ClancyWorks, Divine Dance Institute, Dance N Praise Dance Ministry and Mason-Rhynes Productions.
Event Contact
Creative Alliance at The Patterson
4102761651
Event Details
Repeats weekly -- until Saturday March 25, 2017.
Prices: – Array
4102761651
Location
Add Event To Your Calendar