Pay-What-You-Can Night - LOS OTROS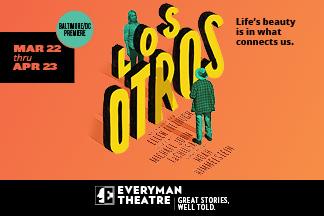 PAY-WHAT-YOU-CAN NIGHT!
March 19 at 7pm
March 21 at 7:30pm
In service of the theatre's mission to keep theatre accessible for everyone, tickets are sold on a first-come, first-serve basis at the Everyman Theatre Box Office the day of the performance beginning at 5:30pm. The suggested donation per ticket is $5. Tickets must be paid for in cash. Seating is general admission. For more details, please call the Box Office at 410.752.2208.
LOS OTROS
Book & Lyrics By Ellen Fitzhugh
Music By Michael John LaChiusa
Directed by Noah HimmelsteinFrom Tony Award nominees Michael John LaChiusa (The Wild Party/Giant) and Ellen Fitzhugh (Grind/Paradise Found), and acclaimed director Noah Himmelstein (An Inspector Calls/I am Harvey Milk) comes the premiere of this re-imagined, unique musical. Through a series of beautiful and intimate moments, two Californians, Lillian and Carlos, explore three significant moments in their lives, discovering they are linked in unexpected ways. This semi-autobiographical work captures a universal story of interconnectedness, love, risk and revelation through the lens of two people's lives.
Director Noah Himmelstein provides an inside look at Everyman Theatre's first commissioned piece, LOS OTROS, and what it's like to work with the renowned creative team of Michael John LaChiusa and Ellen Fitzhugh.
Event Contact
Michele Alexander
443.615.7060
Event Details
Sunday, March 19, 2017, 7:00 PM – 8:30 PM
Tuesday, March 21, 2017, 7:30 PM – 9:00 PM
Prices: – Array
Location
Add Event To Your Calendar