Undercurrent: Theatre for Now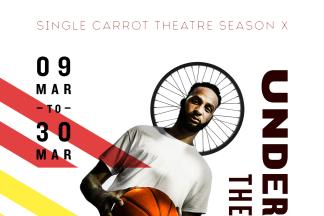 UNDERCURRENT: THEATRE FOR NOW
4 plays. 3 weeks. 1 theatre.
Featuring Nicole Daniels, Keith Wallace, Madeline Burrows, and Daniel Park
March 9 – March 30, 2017
Visit our website for a listing of showtimes!
Undercurrent brings together four artists in a festival of creator-performed shows. Each piece gives voice to a subject, point-of-view, or experience that is essential in today's social and political climate.
More about the shows:
The Bitter Game
By Keith Wallace, Co-created with Deborah Stein
A solo performance charged with pain, poetry, and laughter, The Bitter Game blends verse, prose and shit-talkin' into a stirring commentary that begs the question: what does it mean to survive while Black in America? Wallace explores the question of police agency and excessive force, the ripple effects of trauma in communities of color, and the value of Black lives in this country.
MOM BABY GOD
By Madeline Burrows
Prepare to be thrown into the world of the Christian Right, where sexual purity workshops and anti-abortion rallies are sandwiched between karaoke sing-alongs and pro-life slumber parties. Choices for Life Crisis Pregnancy Center is hosting the Students for Life of America conference, and our tour guide is fifteen-year-old Jessica Beth Giffords. She is well on her way to becoming the next It-Girl of the Christian right until she meets John Paul, a flirtatious Christian boy sporting a purity ring, and she struggles to contain her own sexual feelings while surrounded by the "pre-marital sex=death" mantra of the Students for Life conference.
Kids on Bikes
By Nicole Daniels
Kids on Bikes is a one-woman play written from interviews in a real Baltimore neighborhood. What happens to a self-proclaimed "liberal" and "diverse" community when surveillance and conversations about who belongs in the neighborhood begin to arise? The story chronicles the experience of an 18-year-old mixed-race summer nanny as she navigates her own identity through interactions with twelve different neighbors in their homes, at neighborhood meetings, on the street, and in coffee shops.
You Are the Hero
By Daniel Park
One part Legend of Zelda, one part theatre, You Are the Hero is your chance to be the hero on an epic journey to save the world! Progress and Growth have been corrupted by Greed, Happiness has been thrown from the sky, and the Door to the Apocalypse has come unlocked. With dangers and traps around every corner you'll have to be courageous, powerful, and wise if you hope to bring the story to a victorious end. But be careful, because Game Over does exist!
Event Contact
Meghan Stanton
443-844-9253
Event Details
Repeats weekly Thursday 4 times.
Repeats daily 2 times.
Repeats daily 2 times.
Repeats weekly Sunday -- until Monday February 27, 2017.
Repeats weekly Friday -- until Saturday March 25, 2017.
Repeats weekly Saturday -- until Sunday March 26, 2017.
Repeats weekly Saturday -- until Sunday March 26, 2017.
Prices: – Array
443-844-9253
Location
Add Event To Your Calendar